Oily skin is a struggle for all those who are having it and facing the issues. Let me tell you, I also have too oily skin and I can relate with that oil on your nose and face which results in an overall dull look. A proper skincare routine can act as a savior for you.
Luckily, I have come up with tried and tested ways to control your oil and sebum production and gives you fresh and clean complexion throughout the day.
To deal with the issues related to oily skin, you must have the right skincare products and skincare routine for oily skin. 
Signs of oily skin
Oily skin displays the following characteristics-
Shiny Look
Rough texture with visible pores
Greasy to touch
Oily touch
Becomes dull in the middle of the day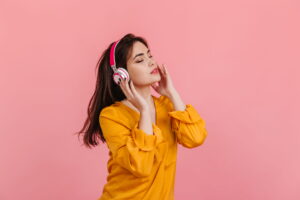 Hate Reading? Listen to the Hindi summary of this article on our podcast here.
Five Simple Steps For Skincare Routine For Oily Skin
Step by step routine for oily skin:
1. Cleansing
Cleansing is the most crucial step for your morning skincare routine for oily skin.
Oily skin needs to cleanse, especially in the morning. All the dirt, oils, sebum and impurities built up on your skin during the night and it can clog your pores if not gently removed.
Start your routine in morning with a mild cleanser which can kick off your day with a fresh face.
It will also help to work other skincare products to work better on your skin. Also, do it in the evening again for better results. 
This Tea Tree Skin Clearing Face Wash is an attractive option for the oily skin. It balances the oil on your skin magically.
It works for acne and clears the skin. I strongly recommend adding this in your wishlist.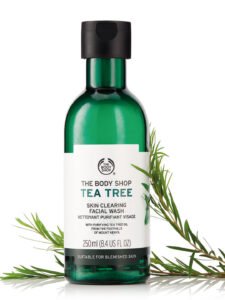 2. Exfoliate
Those dead skin cell build-up, blackheads, and clogged pores are a headache, especially in the lives of oily skin people.
Above that, environmental damage can cause the surface of the skin to become dull, rough, uneven, and can worsen the appearance of fine lines. To prevent the issue of clogged pores and rough skin, you must exfoliate your skin regularly (2-3 times a week) with a gentle exfoliant.
Here is a NutriGlow Luster Gold Scrub which gently removes dead skin cells and refines the texture of the skin, leaving it radiant and soft. Gold is known as a powerful inflammatory that minimises the appearance of sun damage, suntan, fine lines and wrinkles.
Gold is also used for reducing inflammation that can often lead to acne and hyperpigmentation. This gently exfoliating scrub eliminates toxins, pollutants, dirt, excess oil and dead skin cells, thus keeping your skin clean, smooth and radiant.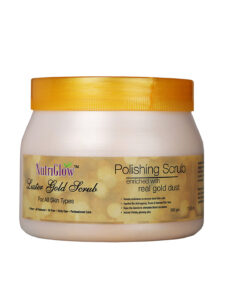 3. Moisturize
Supply to your body with a light moisturiser which is sealed in all the nutrients. Always use emulsions or gel-type moisturisers, not creams because creams will clog up your pores and make your skin shinier.
If you have sensitive skin prone to irritations, look for a moisturiser with soothing properties so that it can heal your irritations. Moisturise two times in a day.
This Vitamin C glow-boosting moisturiser by The Body Shop works magically on all skin type. We have picked this moisturiser especially for its gel formulation, which is best for oily skin.
This will lighten your skin tone, gives you a sparkling glow and hydrates your skin.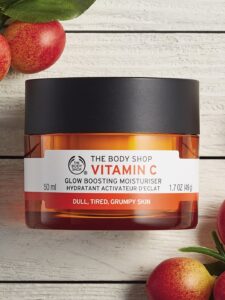 4. Toner
Toners do the same thing for the oily skin as they do for dry skin. They help you to get rid of residual dirt and any makeup you have applied, they will prep your skin for the next steps of your skincare routine, and helps your skin to absorb more active ingredients from the used skincare products.
A right toner for oily skin will resolve the issues of oiliness and shininess.
This ayurvedic toner by Khadi Essentials calms irritation, soothes eczema, reduces puffiness and improves the complexion of your skin. It is best suitable for oily skin and combination skin.
Use it after cleansing or exfoliating for best results. We have tried this, and it works amazingly on skin.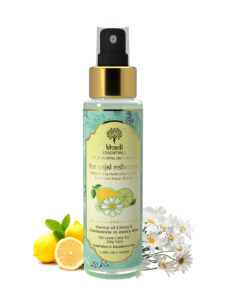 5. Sunscreen
Whenever you step out, make sure to protect your skin against harmful UV rays and prevent premature ageing by using a sunscreen.
Green Tea SPF 35 PA+++Day-Light Sunscreen by Plum is the best sunscreen for acne-prone skin and all skin types. You will love this after seeing the results. 
These 5 step skincare routine with the recommended products for oily skin will help you get rid of the skin issues which are irritating you. Feel free to suggest any more tips or products you are using to control your oily skin.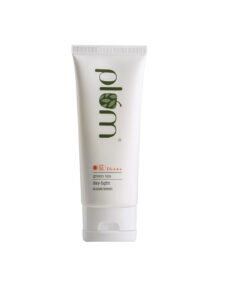 You Can Also Read This Related Blog for the home remedies you can easily practice to take care of your skin.